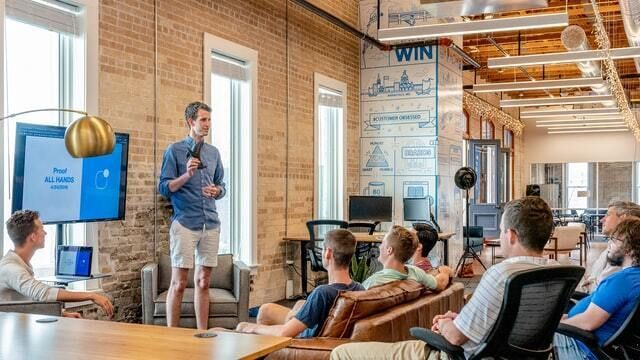 If it's not broken, don't fix it. That's the age-old saying that applies to multiple facets of life, including your marketing efforts. Before there was email, before there was digital—there was print! It would be crazy to say that you should ignore digital marketing altogether, which is why we're simply saying that print marketing, while coupled with digital marketing, can provide an amazing return for your company! 
Event Marketing
Whether you're throwing an event or joining the event as a sponsor, marketing at in-person and hybrid events can be a huge benefit when you leverage printed materials. In-person events allow you to print well-designed brochures and fact sheets to send home with the event-goers.
 
Direct Mail
Email used to be the shiny new marketing tactic that only certain companies could afford to use. Now, email inboxes are oversaturated with messages from dozens of companies daily. While email is certainly not to be ruled out, there are other ways that can help you reach customers, like direct mail. Direct mailers used to be one of the only ways to reach customers with your message. Now, you have a real opportunity to stand out in the mailbox with a special offer or message. While direct mail does cost postage to send and create, you're up against much less competition in the mailbox versus email.
 
Swag and Apparel
Give your current or prospective customers something they can hold onto! We're talking about shirts and sweatshirts, coffee mugs, pens, mouse pads, backpacks and anything else you can put a logo on. Swag and apparel is the perfect way to give your brand some mobility as your customers use your items out in the real world. 
Client Gifts
Nothing says "we appreciate you" like receiving an unexpected gift. Show your top customers how much they mean to you by sending them a branded gift. Think chocolates that have "we appreciate you" on the wrapper or something they've told you they enjoy, which shows that you were paying attention! 
Trade Show Booths
Similar to event marketing, a trade show booth is a setup at an event where vendors stake their claim and talk to the event-goers. You can use signage and backdrops with your branding to stand out and have printed items to hand out. Consider giving the attendees a special offer to entice them to make their first purchase with your company. For example, give a code for 20% off that matches the event name for attendees. 
Sometimes, it's important to go back to the basics. While digital marketing can't be ignored, it's important to incorporate old-school, tried and true marketing methods to build a truly holistic marketing plan. Use printed materials to stand out from the crowd and up your marketing game.