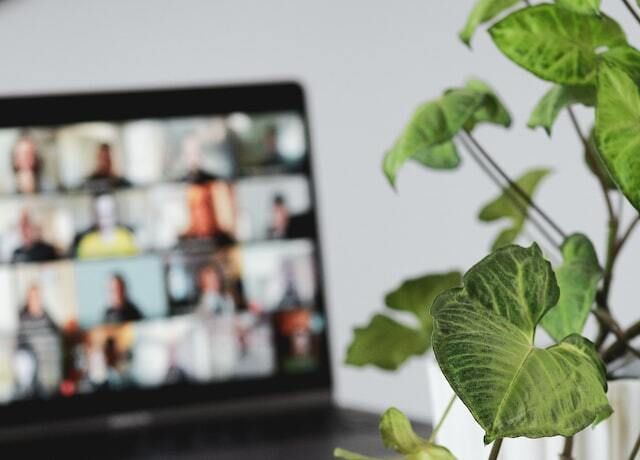 Whether you're back to the office in-person, fully remote or working in a hybrid environment, running meetings has become about much more than simply standing up in front of a room with a powerpoint presentation. Now, there are new challenges to consider. 
How do you engage participants that aren't in the room? How do you lead if you're sitting at home behind a screen? What happens when there are interruptions? Luckily, there are some tried and true methods to help perfect running a meeting from near or far. Check out five tips you can use to make your next meeting a success.
1. Leave Time for Small Talk
When we used to be all in the same room, small talk would naturally happen before everybody was settled and ready to begin. Now, it's not as authentic if everybody isn't in the same room. Build in some time at the beginning of the meeting for a bit of organic conversation. If nothing is happening conversation-wise, as the leader you can have a prepared question that feels organic to kick off the meeting on the right foot.
2. Steer the Conversation
When nobody is standing at the front of the room leading the conversation, it can be easier to get off track or misunderstand who is steering the meeting. Come in with an agenda typed out on a slide or document you can share on your screen or print it out for an in-person meeting. This will help ensure participants know what they're there to discuss and how to stay on track. 
3. Incorporate Interaction
Interaction is the way to keep all of your audiences involved no matter their working environment. Consider online polling tools that could be used either remotely or in-person so your audience can answer questions or even ask speakers questions. If applicable, incorporate an interactive game that helps drive the theme of the meeting. Incorporate gamification efforts wherever possible to encourage interaction.
4. Recap Takeaways
One of the most important parts of a meeting isn't actually in the meeting at all—it's what happens after the meeting. Who is going to take action? What was discussed and how do we move forward? Leave time at the end of the meeting to recap who is in charge of what and how you'll proceed. Consider if there should be another check-in on the project or if emails will suffice from here on out. 
5. Respect Time Limits
Make a habit of keeping an eye on the time. If necessary, assign somebody to let you know when there is a certain amount of time left in the meeting so that you can leave time for questions and a recap. Just because you're not physically in front of a room full of people who need to rush to the next meeting doesn't mean you can continue talking past the time. Many people are booked in back-to-back meetings or have already planned out the time after the meeting. Respect their timing, and if it seems like a follow up is needed, ask to schedule in the future. 
Navigating the leadership of a meeting has changed along with the modern workforce, but that also comes with its advantages. You have the opportunity to interact with people from virtually anywhere! Consider how to keep all parties engaged, how your meeting can be actionable and how to move forward in the future. With these tips, you're on your way to meetings that matter!